We use human-centered design, agile technology development, and empirical research methods to create meaningful new interventions in the justice system.
Our goal is to make a better legal system, that people can use to protect their rights, resolve their problems, and improve their communities.
Our Mission
Training law students & professionals in human-centered legal design
Developing new models of user-friendly, accessible, and engaging legal services
Researching how the civil justice system can be more innovative & equitable
Legal Design & Tech We're Building
In Spring 2020, we built a national Legal Help FAQ platform, with 50-state coverage, of renters' rights and protections during the COVID-19 emergency.
Our team did extensive legal research and assembled a national network of housing law experts to be able to present, in plain language, if renters could be evicted, how much time they had to pay rent, and what new protections they might have in court. It also has a national database of local legal aid groups, court self-help sites, emergency rental programs, and other services that we could connect renters to in each state.
We designed the site to be expandable in coming months, to include more guides and FAQs on how a renter can navigate the eviction process and raise defenses to protect themselves. This site is unique in providing national coverage and detailed legal information for renters.
The Legal Help FAQ platform was built with the support of The Pew Charitable Trusts.
Since February 2020, Stanford Legal Design Lab and the National League of Cities are leading the Eviction Prevention Learning Lab.
This is a multi-city cohort in which city leaders (from government agencies, legal aid, courts, nonprofits, and private industries) learn about innovative eviction prevention strategies, share peer learnings, and design new interventions.
The current cohort has 30 cities and is an 18-month program focused on emergency rental relief, eviction diversion programs, court activation, effective community outreach, smart use of data, and other topics that have arisen during COVID-19 and the eviction crisis.
We are researching and building what the most promising ways to address the eviction crisis are, and we are building a network of local city leaders to coordinate the development and evaluation of these new interventions. These include new policies, technologies, and service models, that we are profiling on our Eviction Innovation platform.
The platform is in coordination with our Eviction Prevention Learning Lab with the National League of Cities. The website presents case studies and strategies that have emerged from the cohort, and that can help guide them.
Our team has been building LIST, a user-centered taxonomy of legal problems that people might have in the U.S. It's called LIST, the Legal Issues Taxonomy, (formerly National Subject Matter Index version 2), since it is an iteration of a taxonomy originally developed by legal aid technologists fifteen years ago.
This taxonomy is an essential tool for classifying people's issues and the legal help resources available to them online. The taxonomy provides standard problem codes, definitions, and examples of the legal scenarios that people might find themselves in.
It is useful for app and bot developers, machine learning projects, legal needs analysis, legal help webmasters, and others who are interested in building more interoperable, AI-powered legal tools.
Read more about how you can use it here at our article on LIST use cases and deployment.
Learned Hands is a machine learning project to use interactive games to build tools that can automatically spot people's legal issues. We built this game for law students and lawyers to play, by reading people's legal stories from Reddit and elsewhere, and then labelling the stories with standard legal issue labels.
With this labeled data, we can then train machine learning models to automatically spot people's issues and potentially connect them with resources, find patterns of needs, and integrate more AI into access to justice tools.
As more people play Learned Hands, it contributes to the SPOT classifier, which can then be used by our bots and other groups' tools to spot people's legal issues in their posts and tweets.
The goal is to be able to help people find the local, public interest help — even if they don't know that their problem around debt, family, housing, work, or traffic actually has a legal solution.
Learned Hands was built with Suffolk LIT Lab and the support of the Pew Charitable Trusts.
Our team, working with university, court, and foundation partners in Arizona, built the Arizona Eviction Self-Help website for tenants in Pima County to understand their rights, prepare documents, and get court hearing information for their upcoming eviction hearing.
We are currently running a randomized-control study in which tenants who have been sued for eviction, are sent fliers our team designed to let them know about their rights and the website. Then once they come to the website, we help them identify what defenses or counterclaims they might have, prepare an Answer or other forms, and find their case docket and timing information.
We will be publishing more about the design of this website (and the larger mailer and study design), and the outcomes of the website's engagement and effectiveness levels.
Flood Proof is a mobile app to help people after a natural disaster to start the process of 'clearing title' to their house. We built it with the ABA Center for Innovation, and local legal aid groups in Louisiana and Texas.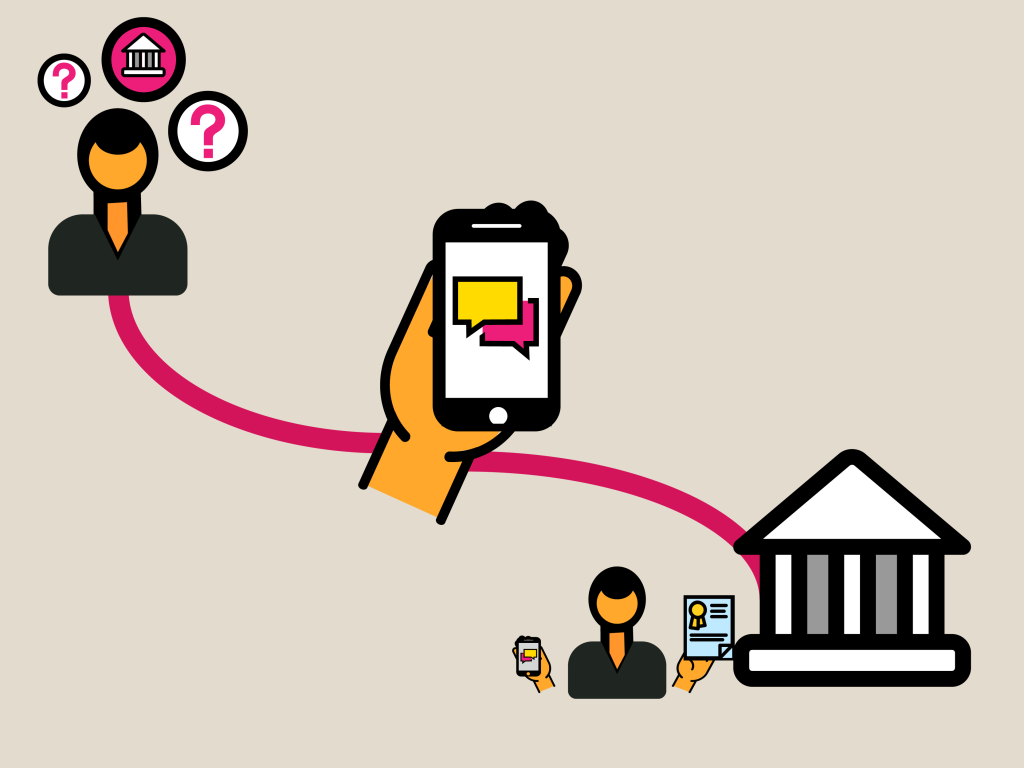 Wise Messenger is a web application that allows courts, legal aid groups, and others to send automatic text messages (or other messenger application messages) to their users. It lets groups create interactive templates of hearing reminders, intake screeners, procedural coaches to people going through the legal system.
Navocado is a web platform to create and publish better guides to legal processes, with visual and interactive step-by-step triage and process guides.
We create Court Visual Guides, which are print and digital visual guides to complex legal processes, that explain how a person can navigate systems like traffic court or eviction lawsuits.
Our Latest Posts
Read our latest long-form essays and reports on our Medium publication Legal Design and Innovation.
We post our team's work and reports here, as well as guest essays from professors, designers, technologists, students, and others working on legal design efforts.
If you're interested in contributing a piece to Legal Design & Innovation, please be in touch!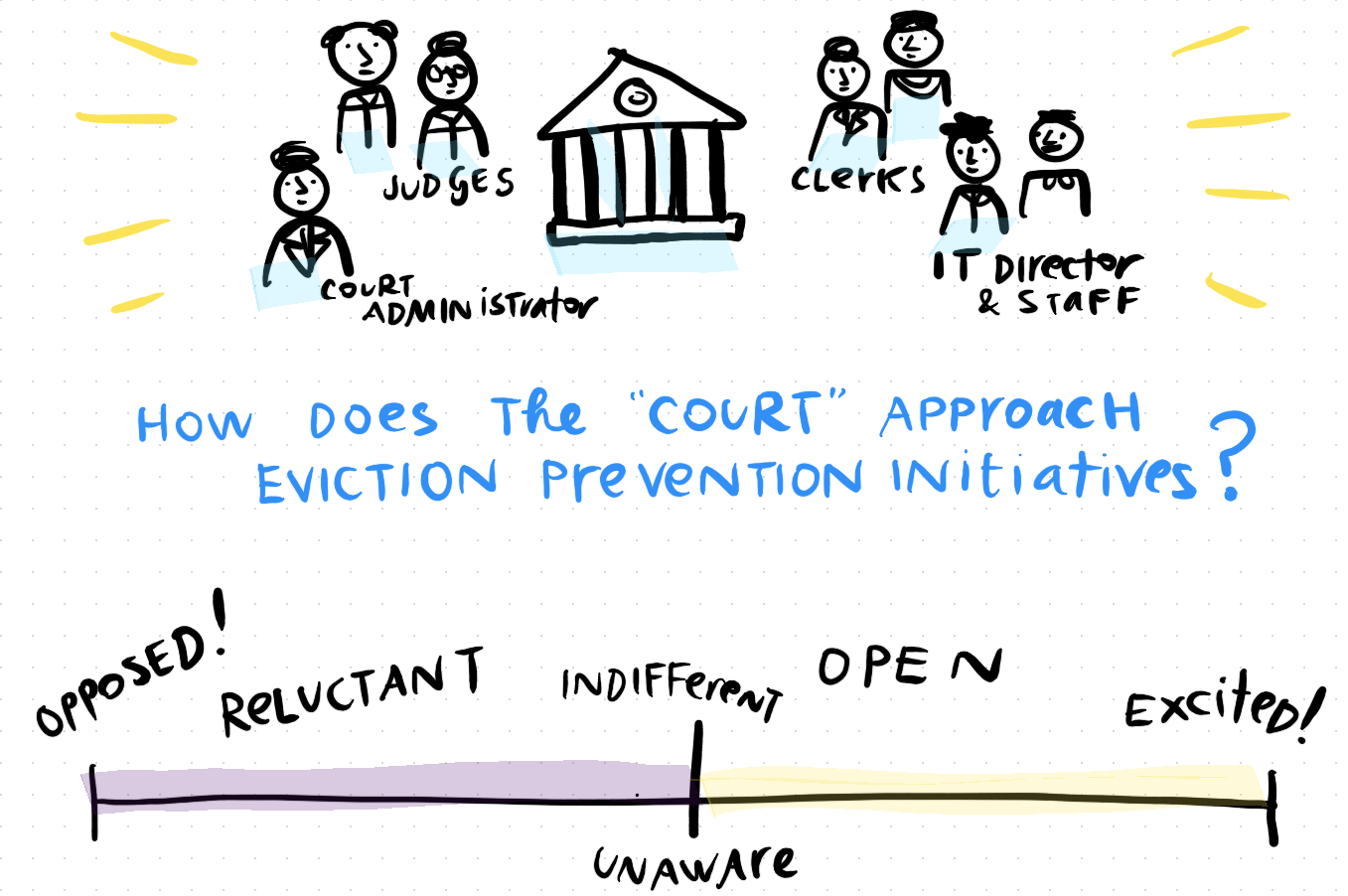 In Autumn 2021, the Legal Design Lab will be teaching its newest version of Justice By Design: Eviction, focused on challenges around creating more community legal navigators & court involvement in eviction prevention initatives.