Our Legal Design Lab is excited to kick off another school year with the latest instantiation of our ongoing Policy Lab course: Justice By Design: Eviction.
Our ongoing Justice By Design policy lab series, which began in 2019, focuses on interventions to improve the eviction system.
In Spring 2021, the class partnered with the NAACP as they launched a new South Carolina (Richland County) pilot to have community navigators & pro bono services for people facing eviction. We helped them create an outreach strategy, including a text message hotline, a website, social media posts, and data-informed community targeting. We also helped them with a scaling plan, to attract and train more legal navigators.
Now, in Autumn 2021, our policy lab will expand on this work with two more policy issues that have arisen out of this pilot
Challenge 1: Can we train large groups of community members to do 'legal first aid': spotting legal issues and referring people to services?
This idea emerged during Spring's class. What if more people — PTA members, church leaders, probation officers, locksmiths, people active on NextDoor, Reddit, and Facebook, or otherwise — could be trained to spot their community members' legal problems & then connect them with legal aid or rent assistance?
The team working on this challenge area must identify what the legal restrictions are on training people who aren't lawyers to do legal issue-spotting; what the best practices there are, especially from outside the US, in doing community justice work; and what technology or design work could make it easier to recruit, train, and supervise community navigators. The team will create a proposal and strategy paper for the NAACP to use to determine if it can train community members in legal first aid, and then how to effectively do it at scale.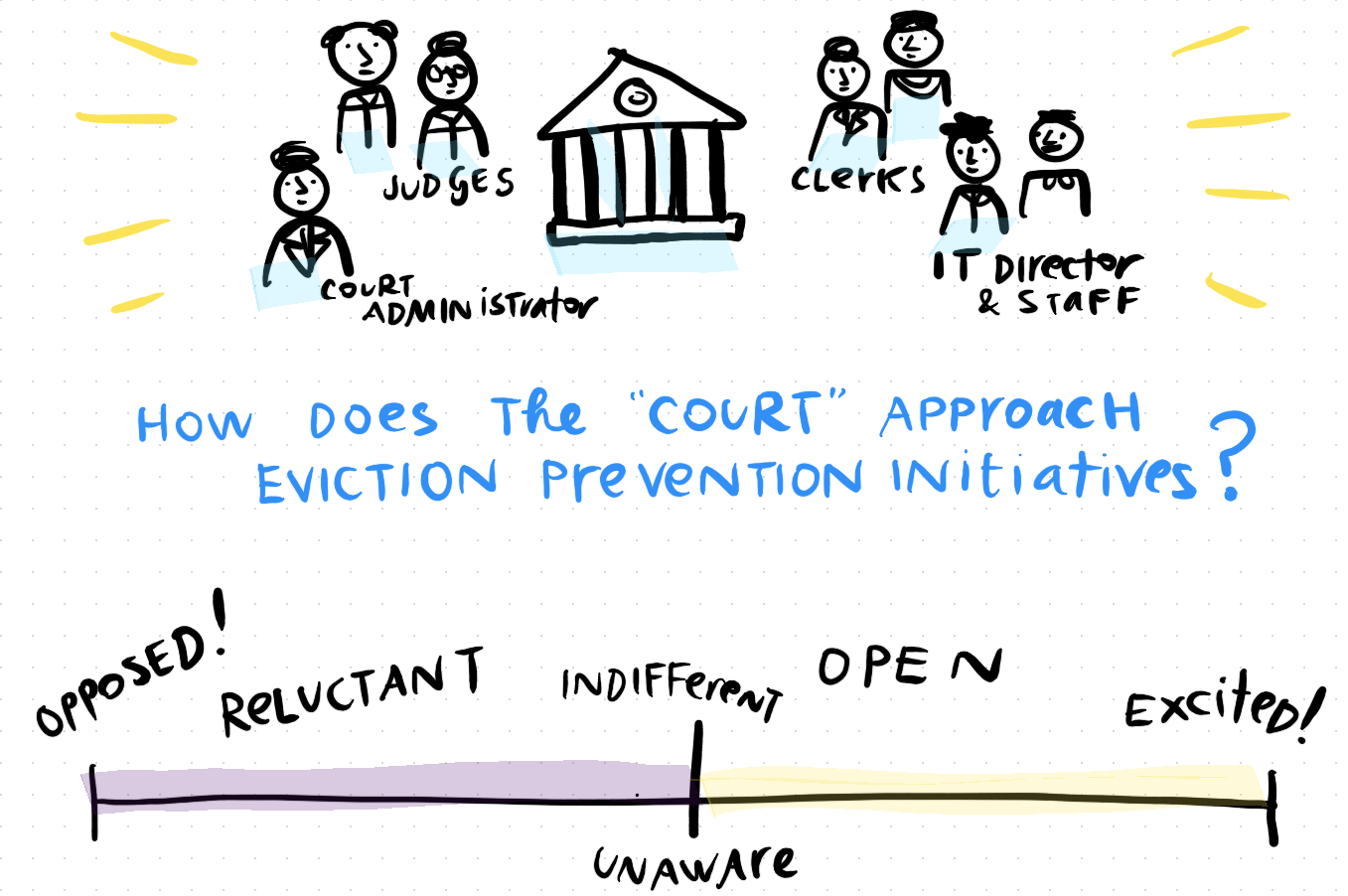 Challenge 2: How can courts be more involved in mitigating the harms of eviction? And why are some courts reticent to do so?
Especially with COVID, there are many new pilots across the country to mitigate the harm of eviction lawsuits. Receptive, 'first-mover' courts have used judicial discretion and their local rule-making to implement pilots like:
Diversion programs that encourage mediation, use of rental assistance, settlements and social services to repair the landlord-tenant relationship — and avoid trials
Emergency Rental Assistance outreach to tenants as soon as they have been sued
Delaying (staying or continuing) eviction cases against tenants who are waiting to hear back on their ERAP application
Making their courtroom more of a 'collaborative court' with wraparound social services, transitional housing, rental assistance, etc.
Developing new websites, summons, handouts, and text message strategies to better inform and prepare litigants — so there is higher procedural justice
Having Self-Represented Litigant (SRL) support strategies, with a court self-help center, judicial training on SRL support, etc.
But what about courts that are more 'reticent' than 'receptive' to new eviction prevention pilots? Why do some courts (including judges, court administrators, clerks, technologists, and others) not embrace these pilots? And what are strategies, insights, and best practices about encouraging more court involvement with eviction prevention and harm mitigation?
This group will work on work product, like:
A needs-finding report/deck about why various court stakeholders are reluctant to engage with eviction prevention, what laws and regulations exist on their possible involvement, and what key opportunities and strategies are. This will go to the NAACP and other service-providers and policy-makers interested in court involvement in eviction prevention matters.
A 'promising practices' briefing as a slide-deck/report, that outlines concrete actions, training, services, laws, strategies, or technology that could be used to involve more courts in eviction mitigation. This is a high-level overview of the menu of options for local eviction coalitions, legal aid groups, city government agencies, and others interested in involving their court in eviction mitigation.
Detailed intervention proposal: for one of these promising practices, presenting an in-depth proposal for how it could be implemented, on the ground, in the South Carolina context (or in other jurisdictions)
Our class will be taught with a human-centered design approach. We'll be visual, user-centered, and interdisciplinary. We look forward to sharing what emerges from the class!