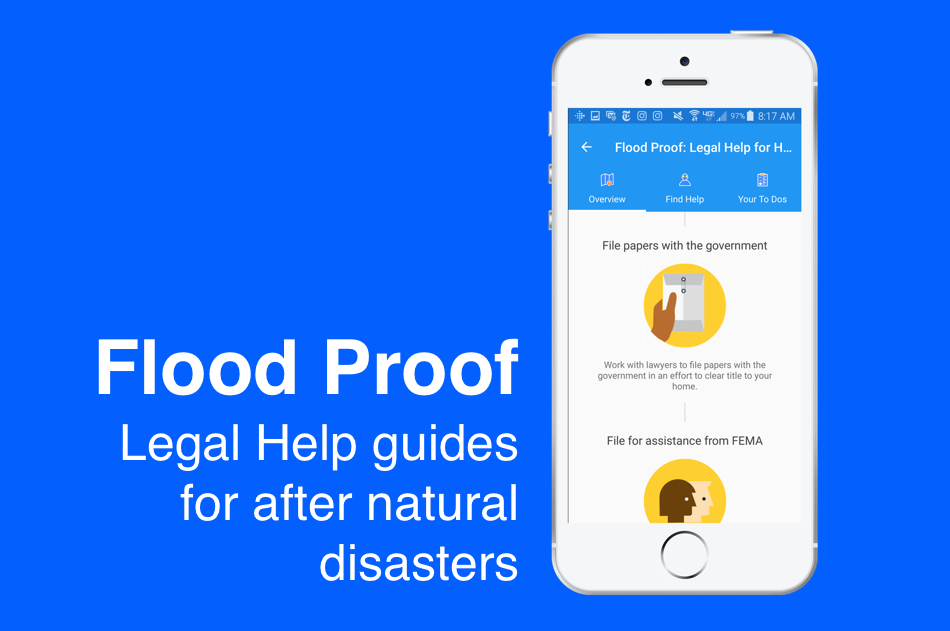 Our team at Legal Design Lab, along with developer Metin Eskili and designer Kursat Ozenc, built Flood Proof, a legal help app for people after a disaster. It includes a screener and preparation app for people trying to clear title to their home, so they can get support after a natural disaster. We built it in conjunction with the ABA Center for Innovation and Southeast Louisiana Legal Services, with funding from many wonderful partners in Louisiana.
The Problem
Many people do not have "title" to their home — meaning that even if they are living in their house, and even if they have inherited it — they have not legally secured ownership of it.
Not having clear title becomes a huge problem after a natural disaster. If your house has been damaged with floods, hurricanes, or other disasters, you may need to seek help from government recovery funds or insurance providers. Without clear title, though, you can't access this help — and you don't get funds you should be entitled to, for your recovery.
Clearing title is a complex process that requires a lawyer. You must do title searches, compile family tree of other possible owners, assemble proof and paperwork, and go through probate court.
After Hurricane Katrina in Louisiana, clearing title became a huge burden to those seeking recovery support.
Our Design Process
We began design and development of the app after being approached by leaders from the American Bar Association's Center for Innovation. After the August 2016 floods in Louisiana, they wanted to explore how to best support people whose homes had been affected — and who would have title problems.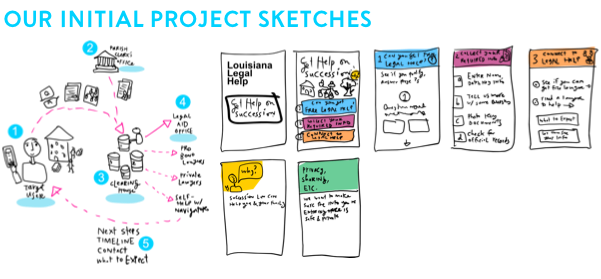 A multi-stakeholder team formed, with a legal service agency, local foundations and community groups, law school professors and students, the ABA Center for Innovation, and our team at Stanford. We worked with them to scope what the key information for a person to know about clearing title would be, and what services might be possible to provide via mobile phone, based on regulation of practicing law, what government databases were easily searched, and how complicated the legal process is.
Based on those project-scope discussions, we created a plan for a mobile app that would have three main flows. One, it would give people a baseline of understanding of how Clearing Title works, and why it's important. Two, it would screen people for whether they could get free legal help, and then connect those who qualified to local help. Third, it would let them intake their situation, their family tree, and their key documents — and then, choose to share their gathered materials with a legal service agency or any other lawyer they chose.
We worked closely with our partners through 3 months of agile development of the iPhone app. Then we developed the same vetted app for Android.
The Outcomes
The Flood Proof: Louisiana Legal Help app has been downloaded more than 2,750 times as of September 2017.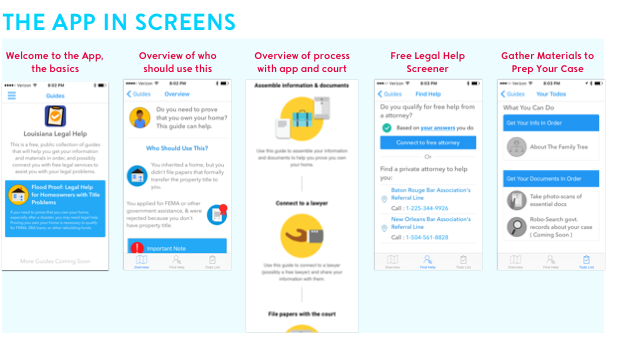 We are now exploring how to adapt it to more jurisdictions beyond Baton Rouge — especially to Texas and Florida, after natural disasters hit, and clearing title will be necessary for people to access crucial resources.
We are also exploring how to integrate more automated government title searches and family tree creation, to ease the burden on users.
Find our case study poster here, for a one-image summary.