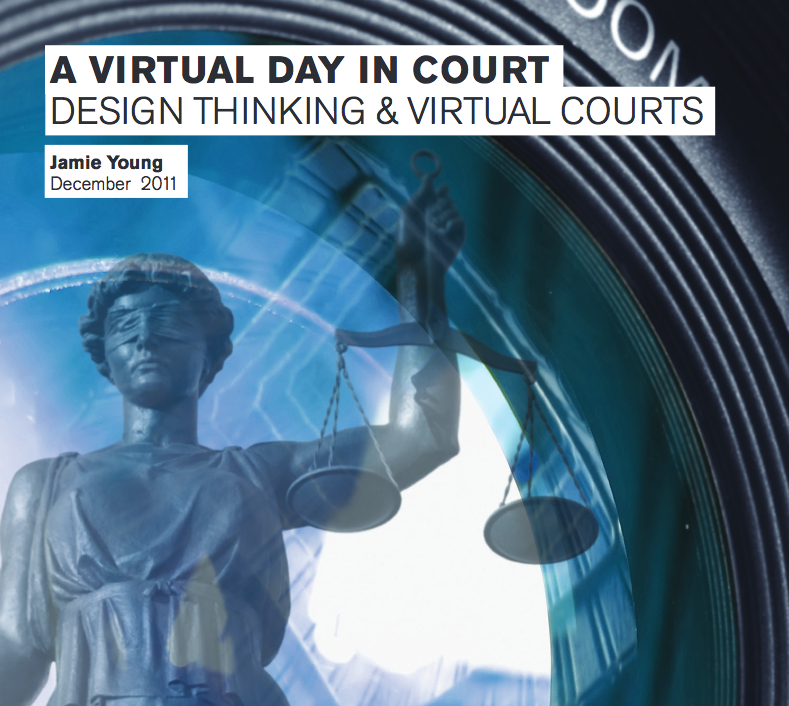 This 2011 report of a legal design undertaking — how might we redesign courts to improve the user experience and increase the presence of efficient, usable technology in court procedures — is a great example of legal design-driven innovation.  It comes from RSA, a UK non-profit that brings experimentation & design to social problems.
Here is the RSA's blog post, also by Jaime Young, that introduces the 11-page report:
What's the missing word?

"Good ██████ keeps the user happy, the manufacturer in the black and the aesthete unoffended." Raymond Loewy

"People think that ██████ is styling. ██████ is not style. It's not about giving shape to the shell and not giving a damn about the guts. Good ██████ is a renaissance attitude that combines technology, cognitive science, human need, and beauty to produce something that the world didn't know it was missing." Paola Antonelli

"██████ is not the narrow application of formal skills, it is a way of thinking." Chris Pullman

It is of course – Design. It's a common complaint (at least from designers) that design is misunderstood as a fundamentally superficial activity, but over the last five years the message is getting through. Design is now being championed in previously unlikely places – particularly on issues of public service reform. As Lord Bichard, previously Permanent Secretary at the Department for Education and Employment said:

"Many people think of design in terms of packaging and product design. They don't realise design tools can go far beyond that, and can cause you to ask serious questions about business vision and service vision. Design is very much addressing the relationship with clients, customers and citizens and is relevant to the public sector, not least around services."

However there are still fields where good design is unheard and unthought of, though the approach could play a valuable role. In one example, courtrooms across the country are planning enormous change, as the Ministry of Justice makes changes to balance its budget. As the BBC reported last week, one of the primary ideas they are testing is to increase the use of videoconferencing technology in court, allowing witnesses and defendants to give evidence remotely, potentially saving time and money.

Today we publish a report that looks at this exact issue: how could better design improve the productivity and experience of appearing in court? Drawing on an expert seminar hosted earlier this year by the RSA and Cisco during which we heard from academic researchers, legal professionals and designers, we explore how design could improve the development of such 'Virtual Courts', which have proved controversial for a number of reasons – some fearing that the technology could undermine the gravitas of courtroom events, or even bring threats to justice.

Our report argues that the planned extensions of the virtual courts pilots should put 'design thinking' at their centre to resolve these potential issues, for example by:

Involving all court users (magistrates, defendants, interpreters, solicitors and more) to generate ideas to improve stakeholders' experience of new technologies in court
Rapidly testing ideas with court users, prior to pilots, to reduce the risk of failure further down the line – as well as suggesting more ideas to improve other parts of the system
Embedding design thinking into the organisational culture of agencies in the criminal justice system to encourage on-going innovation

The full report is available for download or reading online in the Design section of the RSA's website.