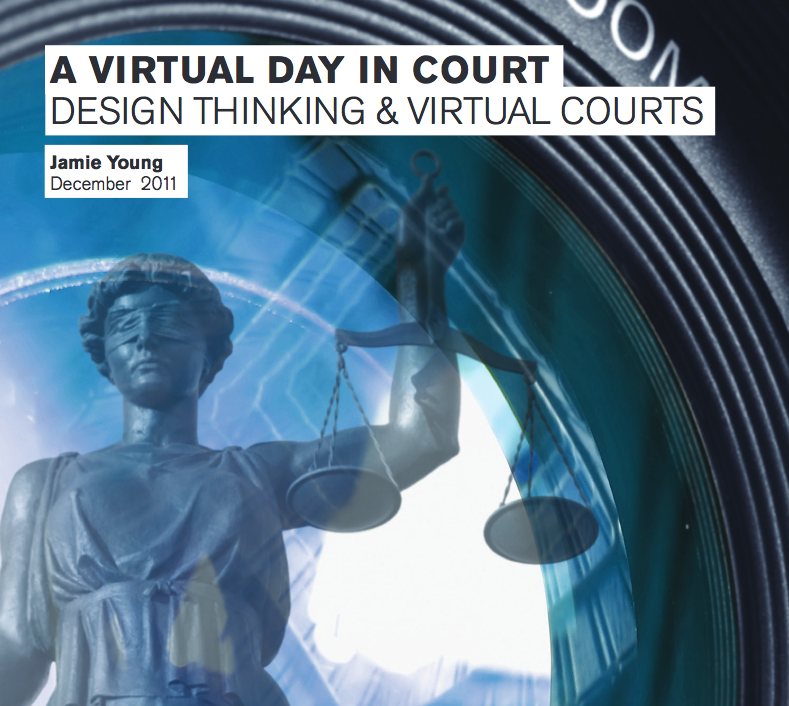 Cisco & the RSA held a workshop in 2011 on using design thinking to reimagine how legal services are delivered in Courthouses. They published a short paper, 11 pages, called "A Virtual Day in Court: Design-Thinking & Virtual Courts" describing their approach, ideation, and possible projects that could result.
Find the full paper here:  A-Virtual-Day-in-Court.pdf.
Many commentators and experts have identified design to be not just the process of developing a tangible product, but also a valuable approach to the public sector; allowing the creation of more innovative services. Through methods like user-centred research and prototyping, design can produce public services that meet challenges such as satisfying users and saving costs.
The RSA and Cisco Systems organised a seminar to explore the potential of using a design
thinking approach to re-design courtrooms. Particularly under scrutiny was the question of
whether and how videoconferencing technologies could be used in the criminal justice system
without undermining the important social components of 'the day in court'.
Representatives from the Netherlands (who operate sophisticated remote video systems
throughout the criminal justice system) and others from the UK's Virtual Courts pilots
presented on the state of courtroom video technology in both countries. They were joined
by academics and designers who presented relevant research on the performance of video
technology and the value of design.
Videoconferencing technology has been advanced by some as a method of reducing the
costs and delays associated with transportation of prisoners and witnesses. However many
stakeholders in the criminal justice system dislike the use of video, fearing that it will degrade
and undermine courtroom events. For example, court interpreters dislike interpreting over
video, though research indicates that the results may be as effective as 'traditional' interpreting.
In this paper we suggest that certain characteristics of a design thinking approach could
address stakeholders' anxieties over videoconferencing technology. For example involving all
court users, articulating their needs and concerns, observing courtroom behaviour to develop
research insights, and prototyping possible solutions, could deliver the advantages of video
while resolving stakeholders' concerns. At the same time, innovation could become embedded within the agencies that comprise the criminal justice system.
This short paper summarises presentations from our seminar and draws out themes from the
ensuing discussions, before suggesting these three principles of could improve the design and
integration of videoconferencing technology in courtrooms in the UK.

Inspire:

Future virtual courts work should involve all court users in generating ideas to improve stakeholders' user experience and integrate new technologies such as video.

Prototype:

These ideas should be rapidly tested with court users, prior to pilots, to reduce the risk of failure further down the line, as well as suggesting more ideas to improve other parts of the system.

Execute:
Criminal justice agencies should consider how to embed design thinking as anapproach to innovation into their organisation's culture.